Nick Jackson, Nidan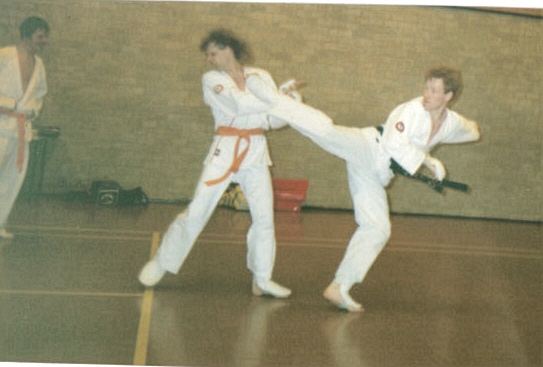 DOB: 14th August 1961 A long, long, time ago in a galaxy far, far away!
When and where did you start karate? October 1987 at Darwen Leisure Centre
Why did you start karate? For fitness and self defence
First instructor: A young 1st Dan you might know as Andy Allwood. At the very first night that the club opened with a demo, my wife Caroline and myself signed up, and we are very proud to be able to say that, even after a break, we are still friends and associated with the club.
Date of 1st Dan & Examiner / Association: 1st March 1992, Tom Scott 4th dan Shinji-ru Karate Association / Instructor Andy Allwood
Date of 2nd Dan & Examiner / Association: 27th November 1994, Dave Ritchie / Andy Allwood, British Tori Kai Karate Association
First started teaching: Andy asked me to assist when I reached 3rd Kyu, probably 1989
Relevant experiences: Started training with Andy as one of his first students in October 1987 when the club was with Shinji-ru then with other associations but Andy was always there to guide us all in the right direction.
Biggest influences: Andy Allwood, Tom Scott, Dave Ritchie, Greg Francis and the Jiyu Kigen Ryu Sunday crew.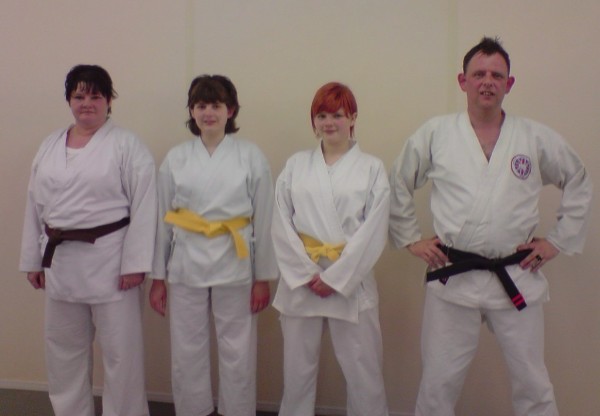 Competition honours: 1988-Shinji-Ru up to 4th kyu kata 2nd;1988-Shinji-Ru up to 4th kyu kumite 3rd; 1989-Shinji-Ru up to 4th kyu kata 3nd; 1994 BTKA nationals senior kumite 3rd; 1994 BTKA nationals Senior team event 3rd; 1995 BTKA nationals Senior lightweight kumite 3rd; 1995 BTKA nationals Senior team event 3rd
Other qualifications: 30 years as a hairdresser (still don't understand women)
Blackburn Area Road Safety Association Gold Star Driver Award
Any other relevant info: Attended various courses with the likes of Alfie Lewis, Keiji Tomiyama, Greg Francis, Tom Scott and Dave Ritchie.
Favourite technique(s) / aspects of karate: Anything that scores, Nasty street techniques, the self control and the respect for other people and Karateka that Karate gives you.
Favourite food: Indian, Chinese, Mexican, Italian, Kebabs, Bury Black puddings, just about anything - I'm a human dustbin.
Favourite book/ author: Tolkien / anything, John Steinbeck / Of Mice and Men, Jim Fogg
Desert Island disc: Too many, but anything by Bowie, Meatloaf, Pink Floyd, Lancashire Hotpots, Elgar, Verdi, Giacomo Puccini or Strauss
Favourite film/ movie genre/ director: Feel-good movies (Chitty Chitty Bang Bang, Grease) Sad movies (Forrest Gump, Ghost) Men's films (Magnificent Seven, The Great Escape, Dam Busters).
Other external interests: Fishing, Motor sport, Motor cycles, Rugby union, Wine and Real Ale, Eating out, Autism, Yorkshire Coast and The Lake District.