News

6/6/18
Imogen Skipper represented Lancaster University in the annual Roses Tournament against rivals York. Fighting in the individual kumite and team kumite events she won all her bouts and took two golds. Lancaster also won the overall trophy.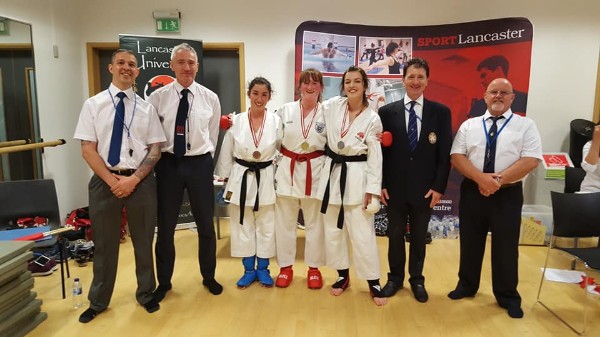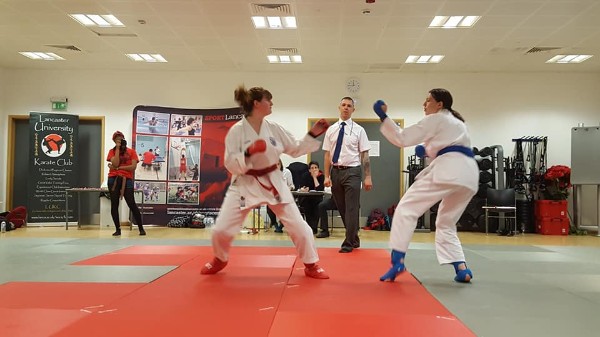 5/5/18
Ian Marsden, 2nd dan took-and passed- 2nd dan Goju Ryu under Tony Christian, 9th dan. he is pictured receiving his certificate from Amanda Winstanley, 7th dan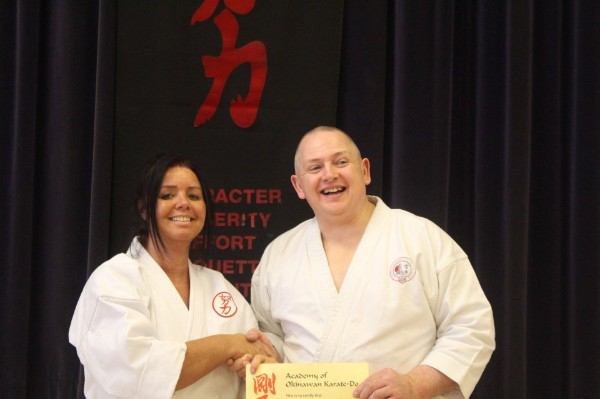 14/04/18
Martyn taught a seminar in Cardiff for students of Martyn Harris Karate Academy. Course content included kumite strategies and tactics
https://www.facebook.com/martyn.harris.35/videos/1853504024694535/
17/2/18
Tower Shukokai played host to AMA Vice President, Peter Allen 7th dan. Ian Marsden, 2nd dan, took his Practical Coaching Test and Martyn Skipper, 5th dan, tested for Coaching Assessor. Both men passed and Ian was complimented for his technical performance of kihon waza. Update 22/2/18: Ian Marsden is now an officially registered AMA Instructor, having completed all the necessary training, documentation and examinations. Congratulations, Ian.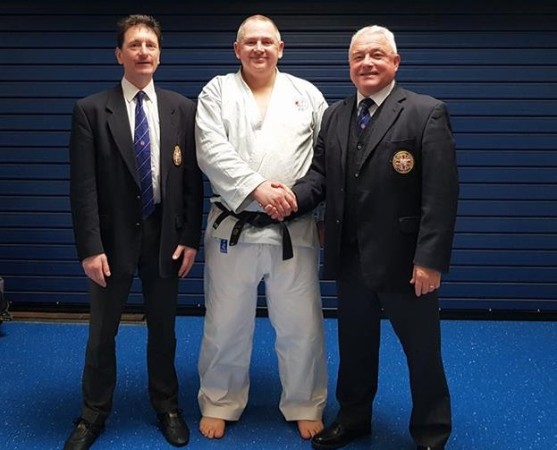 1/2/18
WUKF has revised competition rules. You can view the latest revision via the link on the Coaching Page The major change to be aware of is that the penalties have been redefined. Illegal techniques will be penalised with "Atenai" as before. The referee sign for Atenai is still the fist behind thje palm. A third Atenai penalty will result in Hansoku (disqualification). All other infringements (illegal behaviour) will accrue a new penalty of "Kinshi". The previous penalties of Mubobi and Jogai will now be classified as Kinshi. Four instances of Kinshi will lead to Hansoku. The referee signal for Kinshi is the forefinger at 60 degrees - the signal previously used for Mubobi.
These penalties only apply to Shobu Sanbon & Shobu Nihon. Shobu Ippon content remains as before.
Coaches can also be awarded Kinshi but only three offences will result in Hansoku.
31/1/18
Martyn will be teaching a kumite seminar for the Martyn Harris Academy in Cardiff on April 14th at Pontprennau Communitycentre
heol pontprennau, CF23 8LL Cardiff
31/10/17
Two pieces in the Lancaster University Newspaper,"Scan"
1) Imogen's article on karate in the Olympics
http://scan.lusu.co.uk/index.php/2017/10/28/olympic-karate-a-positive-or-negative-for-the-sport/
2) Feature on Imogen's competition career in "Scan"
http://scan.lusu.co.uk/index.php/2017/10/20/lancaster-talent-karate/
22/10/17
Matt and Phil attended seminars with John Burke and Simon Oliver at the Kaizen Expo in Nottingham. See photos here
Meanwhile on the same morning the rest of the class celebrated international karate day with a performance of kata. The juniors managed 22 kata in one class. The seniors completed 100 performances of Saifa kata.
3/12/16
In recognition of his 40 years of karate training Martyn held a celebration training session at the AMA Honbu in Bury. Amongst the guests were:Marc Leacock, 7th dan BSKI; Simon Ford-Powell, 7th dan Jiu-Jitsu; Steve Merrett multiple dan grade in oriental martial arts; Colin Needham 5th dan WTKO and of course Andy Allwood Sensei, 5th dan, and members of Tower SKC. Over 30 guests joined him for a curry in the evening. Martyn was presented with a new silk belt and other gifts by his friends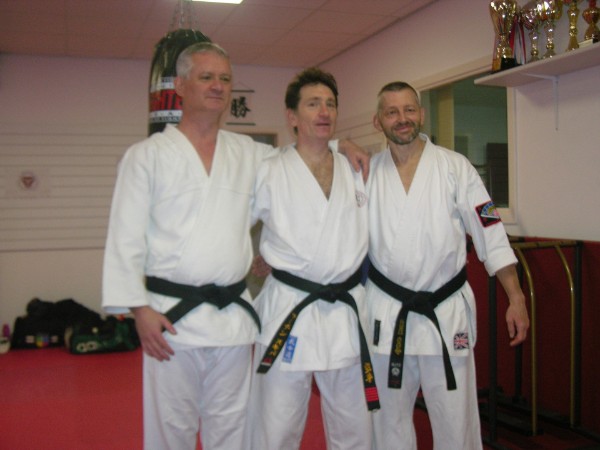 Martyn, with Simon Ford-Powell, left and Steve Merrett, righ
20/11/16
On the weekend of 20th November, the first named storm of the season, Angus, wreaked havoc as it tore through much of the South of England.
Further north, in Sheffield another Angus was tearing through the opposition in the last major karate tournament of the year.
The United World Karate English Championships were held at the Ponds Forge international Sports Centre, hosting competitors from all over England, plus a 30-strong invited contingent from Karate Wales.
Ten year old Angus McIver of Edgworth Primary school represented the Amateur Martial Association (AMA) and Tower Shukokai in the under 145cm boys Kumite (sparring) event. Although still only a purple belt, the category was an open grade contest, so many of Angus' opponents were of black and brown belt grade. Showing his typical unflappable demeanour, Angus was not to be fazed by his more experienced opposition.
Coached by Tower's Martyn Skipper, Angus found himself in a draw of almost 30 English and Welsh foes. In his first bout, Angus took first blood with an early score but allowed his opponent to take him to a draw. The drawn bout needed to be decided by "encho sen" or sudden death score and cool Angus maintained his composure to win through to the last 16.
Wins in the second and third rounds saw him through to the semi-final. His opponent was Leo Rumalean of English United Karate Federation (EUKF). Typically, Angus scored first but two fast head kicks from the Londoner saw the end to any further progress. In an exciting final, Rumalean lost to his team-mate Joseph Watts.
Nevertheless, Angus' Bronze medal in a major national championships is something he can be proud of.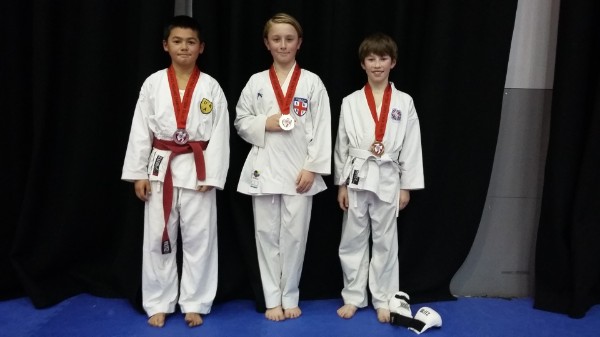 2/10/16
For ten year old Angus McIver, winning is becoming a habit. Angus trains at Tower Shukokai Karate Club under Martyn Skipper and Andy Allwood. On Sunday October 2nd, he travelled to the new Oldham Sports Centre to compete in the BSKI/JSKA Open Championships. Fighting in the Under 4'10" coloured belt kumite (sparring) category, Angus won through three rounds to take the gold medal. This was his third medal in three tournaments since September. As coach Martyn Skipper was refereeing on an adjacent mat, Angus's matside coach was Tower Shukokai's 3rd dan black belt instructor Matt Rathmill. Matt described Angus' performance as "Impressive" citing the lad's hand speed, but also remarking upon his cool, unruffled approach. Rathmill also praised Angus' ability to respond to advice. "Most fighters go deaf on the mat", joked Rathmill "But Angus not only listens to instruction, but responds too". As Matt is himself a seasoned competitor, his advice is always well-informed.
Angus' proud mum Kathy praised the coaching team for their support in Angus' burgeoning caree.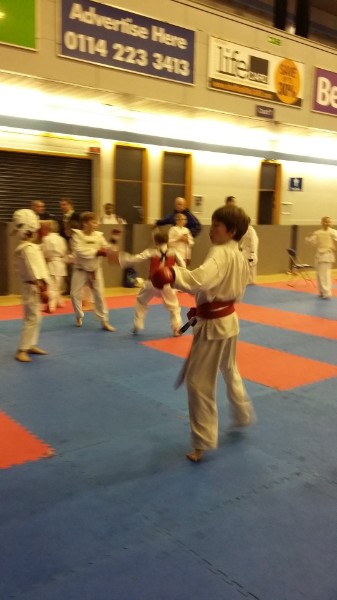 11/9/16
Angus McIver is the rising star of Tower Shukokai Karate Club. 10 year old Angus of Edgworth attends Turton and Edgworth Primary School in the village. The school is also home to his karate club.
On Sunday 11th September he attended the Amateur Martial Association (AMA) North West Open Championships in Bury. Normally competing with boys of his age, and under 140cm tall, Angus faced some tough competition in a category with boys under 150cm, and up to 13 years old. Clever on his feet, and fast with his hands, young Angus out-manoevred the opposition to take bronze medal in this category.
A week later, he travelled to Sheffield for the Federation of English Karate Organisations (FEKO) National Championships at the world-famous Ponds Forge Centre, home to many national and international tournaments. Again Angus battled through to the Semi-Finals of the boys' kumite (sparring) event and took bronze.
Coach, Martyn Skipper observed; "Angus' karate continues to improve. As he matures he will meet taller and stronger opposition, but he seems to show no fear, and remains cool against the toughest opponents."
Karate will be included in the Olympic programme in Tokyo in 2020, but by then Angus will still only be 14. Should the sport be carried over to 2024 Angus will be the perfect age, and should have the Olympics in his sights.
Tower Shukokai meets on Saturdays and Wednesdays at Edgworth School. For more details see Tower Shukokai Karate Club.